Hey ya'll! It's Shelly from Coral & Co. and I'm back to share my look this week! Which of course is the lovely Lillian Pintuck Dress. So this week was apple week at preschool for Ava, and they did all sorts of fun apple related activities including wearing red on Friday.
And since she didn't have anything fabulous and red to wear, I promised her a red dress. I started my project with my fabric choice. The only red I had on hand was Lola in red by Tanya Whelan, which has kind a vintage shade of sweet red. I really liked the vintage feel and knew the pintucks on the Lillian would make a perfect match!
Pattern Details:
Pattern Designer is Mouse House Creations.
Comes in sizes 3 months - 12 years.
Can be made with short sleeves or long.
Can also be made as a shirt or dress, lined or unlined.
This is my first pattern from Mouse House Creations and also my first time sewing pintucks! And I love them! They are actually relatively easy, the main thing is clearly mark all your pintuck lines, don't worry there is a great template provided, and definitely sew the lines straight! ;)
The dress comes together pretty quickly, yay, with simple elastic sleeves and a slightly flared silhouette. For the keyhole closure in the back I decided to go with a button and loop closure instead of the ties. This was a totally easy hack and I like the button look.
Ava was super excited to wear her new red dress for red day and didn't mind modeling at all. Except for the small duck incident, when she wouldn't get off the bench with a duck nearby (see below), all was fun.
The Duck
.
And the bench.
We recovered. Phew.
I can't wait to make a Lillian Pintuck Top! It is such a lovely little dress and another great pattern from Mouse House Creations.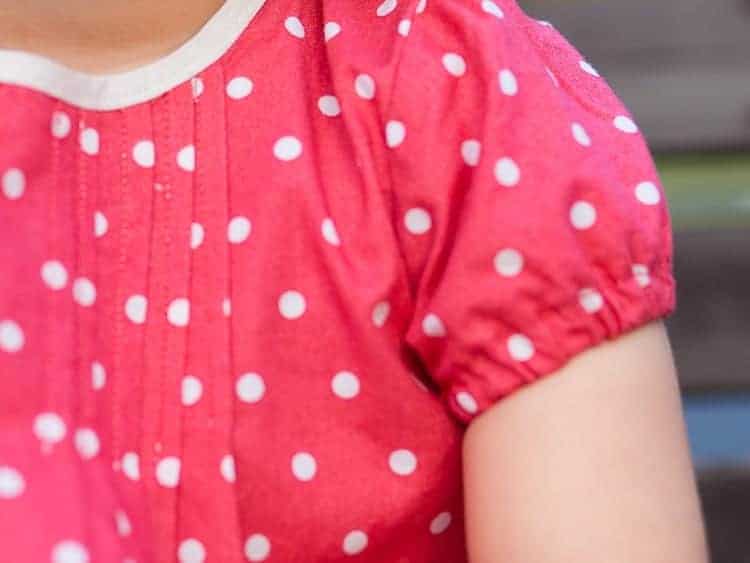 We'd love to see YOUR Lillian Pintucked Dresses or Tops. Share them by tagging us on facebook, twitter, or instagram @UpCraftClub. #lillianpintuck